Pasta is a staple dish in my family's weekly meal planner. We have it at least once a week. Since its so easy to cook and there are so many variations in the way you can serve pasta, you can never get bored with it. One dish that is a firm family favourite is Roasted tomato spaghetti. It's so effortless to prepare, making it the perfect week night meal when everyone is hungry after work and you need a speedy tasty dish.
There is a lovely section of pasta recipe ideas on the Bertolli web site. I have taken inspiration for this dish from Gennaro Contaldo's Spaghetti with Tomato Sauce but I have adapted it by adding some of my family's favourite vegetables. Making the recipe using the Bertolli with butter really enhances the flavour of the dish.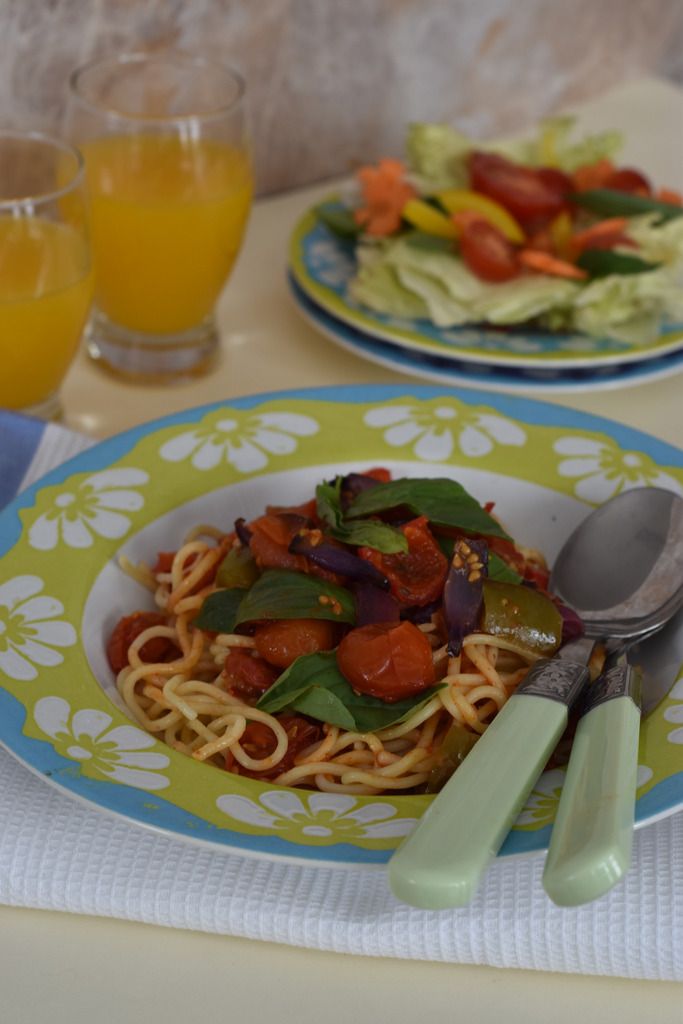 Buttery spaghetti tossed in a sauce made with cherry tomatoes roasted with peppers, onion and garlic.
200 g

Spaghetti

1 teaspoon

Bertolli with Butter

2 litres

Water

1 teaspoon Salt
For the Sauce
300 g

Cherry Tomatoes cut in halves

1/2 each

Red /Green Pepper cut into 1 inch dice

1

Red onion peeled and cut into 1 inch dice

2 cloves

Garlic peeled and roughly chopped

1/2 teaspoon

Salt

1/3 teaspoon

Pepper

1/4 teaspoon

Chilli flakes

1 teaspoon

Bertolli with Butter

12

Basil leaves
1. In an oven proof dish add 1.5 teaspoons of Bertolli with butter. To the dish add the cherry tomatoes, onions, garlic and peppers.
2. Sprinkle the vegetables with salt and pepper and toss together. Place in a preheated oven for 25 minutes until the vegetables soften but are still holding shape.
3. Remove the roasted vegetables from the oven. Tear the basil leaves by hand and stir into the roasted vegetables. Leave them to wilt for a minute or two from the heat of the vegetables. Stir in the chilli flakes.
4.In a large pan add the water and bring it to the boil, add 1 teaspoon salt and add the spaghetti. Cook the spaghetti until its al dente
5. Drain the spaghetti and add 1 teaspoon Bertolli with butter, toss the spaghetti so that its coated with the butter.
6. Add the roasted vegetable sauce to the cooked spaghetti and toss it all so that the spaghetti is coated with the sauce.
7. Spoon into pasta bowls and serve piping hot.
Prep time:
Cook time:
Total time:
Yield:

Serves 2
**This recipe is in collaboration with Bertolli.
The patterned Nador plates featured in this post were press samples supplied by Forma. The plates are really pretty and come in various designs and colours. They designs are available as side plates, soup plates and dinner plates. There are also other accessories available in the range such as spoon holders, platters and cups.They are available to purchase from Forma House