Great British Bake Off
and the theme is batter, this is a first on the series where contestants have been challenged to create recipes using batter. This weeks the signature challenge was yorkshire pudding with filling, technical challenge was lace pancakes and showstopper was churros a Mexican fried doughnut. It was a really interesting challenge and it was great to see all the different combinations of flavours that the participants offered.
At simplyfood I rarely fry food and you will find very few recipes that are fried, I am fairly health conscience how ever fried food eaten in moderation is fine so this week I have decided to make churros. The recipe I have used is from Rachel's yoghurts, only modifcations I made were that I left out the eggs in the recipe as I have seen on google that you can make churros with out eggs too.I also chose to go for a non conventional shape and make my churros in spirals like pinwheels.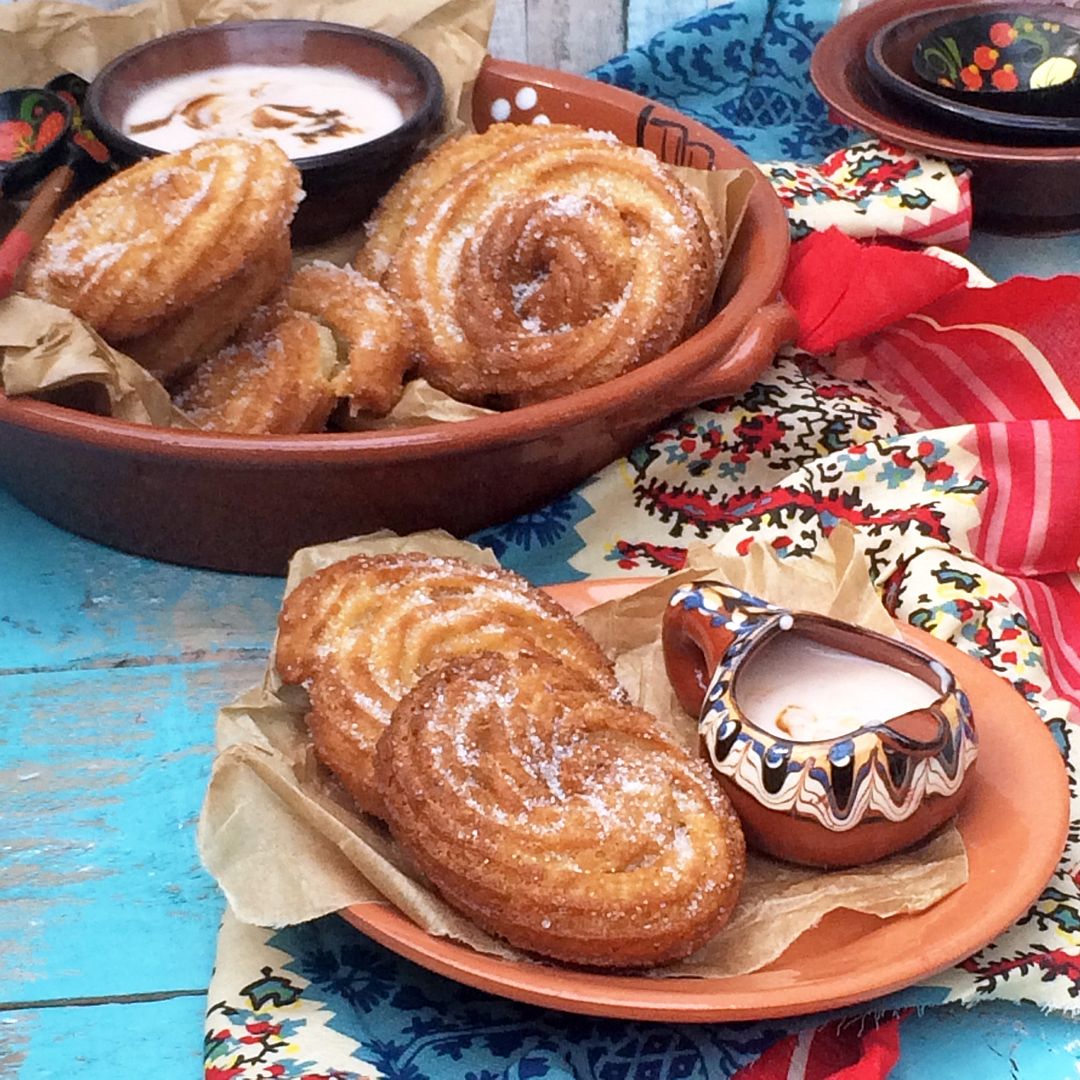 Ingredients
25g

Butter

200 ml

Water

175g

Self raising flour

1/2 teaspoon

Baking powder

1 tablespoon

Rachel's honey Yoghurt

800 ml

Oil (for deep frying)

1/2 teaspoon

Cinnamon for dusting

100g

Sugar for dusting

200ml

Rachel's honey Yoghurt for dipping with a extra pinch of cinnamon for sprinkling.
1. In a pan add the water and butter and bring the mixture to a boil. Remove the pan from the heat and keep aside
2.Sift together the flour and baking powder and add this to the water and butter mixture and quickly mix the ingredients until they come together.Leave the mixture to cool slightly.
3. Once the dough has cooled slightly add in 1 tablespoon of Rachel's honey yoghurt and mix it in thoroughly.
4. Cover the dough and leave the dough to rest for 30 minutes.
5.Place a large star nozzle into a large piping bag and fill it with the dough.
6.On grease proof paper pipe 12 spiral pinwheel shapes making sure you leave space between them. Leave these a side to rest for 10 minutes.
7.In a plate mix together the sugar and cinnamon and keep aside.
8. Heat oil in a deep fryer to 190 degrees C. Once oil is hot test it by dropping a ball of dough if it immediately floats to the surface oil is ready.
9. Gently lift off the piped churros off the grease proof paper and lower them into the hot oil. (Only fry 2-3 at a time , do not over crowd the pan)Deep fry them for 2-3 minutes until golden brown. Remove them from oil with a slotted spoon and transfer them to a plate with a piece of kitchen paper on it.Fry the remaining churros in small batches.
10.Once all the churros have been fried sprinkle them with the cinnamon sugar.
11. For the Dip pour some Rachel's honey yoghurt into a dish and sprinkle with a pinch of cinnamon.Serve the dip with the churros.
Details
Prep time:
Cook time:
Total time:
Yield:

12
Churros are generally served with a dipping sauce, chocolate sauce is a firm favourite however I am serving my churros with Rachel's Honey yoghurt with a sprinkling of cinnamon on the top.
I took inspiration to create this recipe from GBBO, it is created in collaboration with Rachel's Yoghurts. The recipe used in this post has been adapted from Rachel's Yoghurts.