Since the Great British Bake off series was on I have been baking more than I usually do. I joined in a bloggers baking group on face book where a group of amateur bakers took inspiration from the shows weekly challenges and recreated the many bakes that the contestants made. I really had fun participating and making new friends. It was a big learning curve for me, where I attempted things like homemade
phyllo pastry,
churros
and
mousse cake
. All these bakes were really out of my comfort zone but the show really inspired me to rise to the challenges.
This week I was well and truly surprised when I heard that Tesco who were sponsoring the Bloggers bake had selected three winners, I am most excited to have come second place which is totally unexpected.
In celebration of this win I have made an eggless black forest cake, Black forest gateau is one of my favourite flavours so this is a variation of it.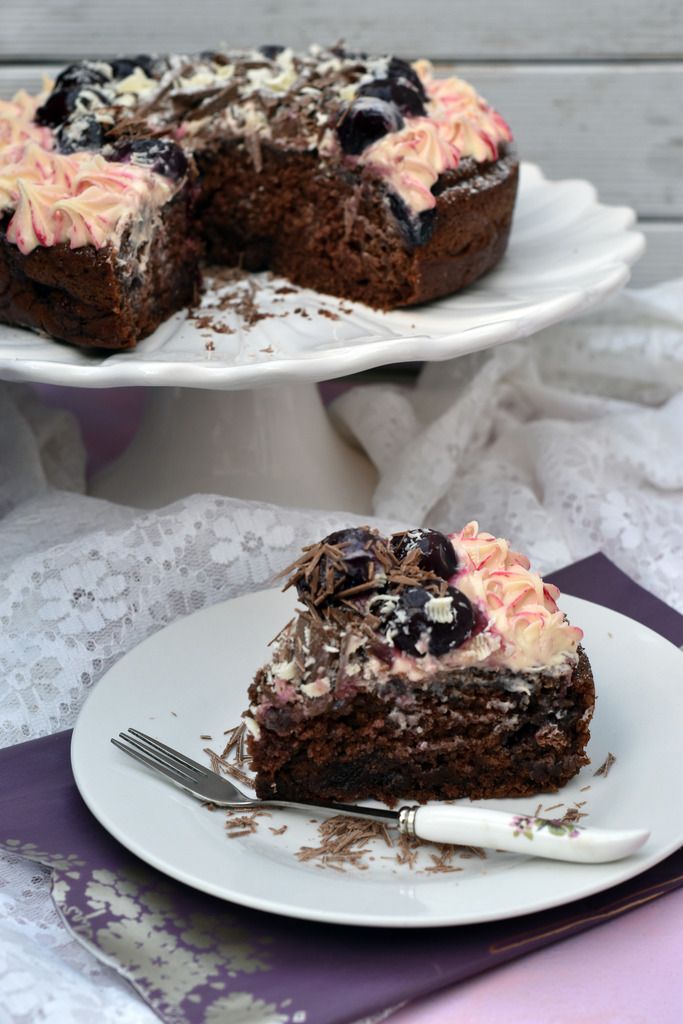 Black Forest Cake
Delicious and moist chocolate cake flavoured with morello cherries and decorated with whipped cream and morello cherries and chocolate shavings.
Ingredients:
300 g plain flour
240 g sugar
1/2 teaspoon salt
1/2 teaspoon bicarbonate of soda
1/2 teaspoon baking powder
60 g cocoa powder
75 ml sunflower oil
220 ml water
1 tablespoon apple cider vinegar
1 teaspoon vanilla extract
240 ml whipping cream
60 g icing Sugar
Dark chocolate shavings
Method:
1. Preheat the oven to 180 degrees C/ 350 Degrees F.
2. Grease a loose bottom cake tin and line it with grease proof paper.
3. Sift the flour, baking powder, bicarbonate of soda and cocoa in a large mixing bowl.Stir in the sugar.
4. In a jug add the oil, water,vanilla essence and vinegar and mix together
5. Fold the wet ingredients from the jug into the sifted flour mixture.
6. Open the can of cherries and remove half the cherries and keep them a side for garnish. The remaining juice and cherries add to the cake batter and fold gently. Transfer the batter to the cake tin and bake in the preheated oven at 180 degrees C for 45 minutes or until a skewer inserted in the cake comes out clean.
7.While the cake is baking, add the cream to a bowl and whisk it with the icing sugar to form stiff peaks. Spoon the cream into an icing bag fitted with a star nozzle. and keep the cream in the fridge to chill.
8. Once the cake is baked, remove it from oven and allow it to cool for 10 minutes in the pan, then remove it from the tin and leave to fully cool on a wire rack.
9. Transfer the cooled cake onto a serving dish and pipe circles of rosettes on the the top of the cake with the cream. In the centre add the remaining cherries.Garnish with some dark chocolate shavings to finish off.
Details
Prep time:
Cooking time:
Total time:
Yield: 1 cake /8 slices
I baked my cake in my new non stick 100% leak proof and watertight Push Pan by
Whitford
. The push pan is easy to use, it 's base is sealed by a silicon gasket which prevents any leaks whilst baking. The pan ensures an even bake. it is dishwasher safe, ovenproof and freezer safe too. The pushpan range comes in various sizes and are perfect for all types of baking.
I was sent a press sample of the push pan to test out, all views and opinions are my own. The push pan photos are used with permission.