I really enjoy
pasta
and find that it is a staple in my families meals. There are so many varieties in many different shapes and sizes. A few of my favourites are the classic spaghetti (cord shape), penne rigate (quills), tagliatelli (ribbon pasta), farfale (bow ties), vermicelli (thin hair like pasta), Fideo Vermicelli (cut small cord shape pasta) and rotini (spiral pasta).
Different pastas serve different purposes, some with ridges coat thick sauces better, the smoother pasta are great for creamy sauces. One of my favourite quick pasta dish is Fideo Vermicelli, it cooks in a short time and is perfect stir fried with seasonal vegetables. This is one dish that features in my meal planner every week. Its great hot or cold and packs well for lunch. In the picture below you can see the texture of this Vermicelli Fideo pasta.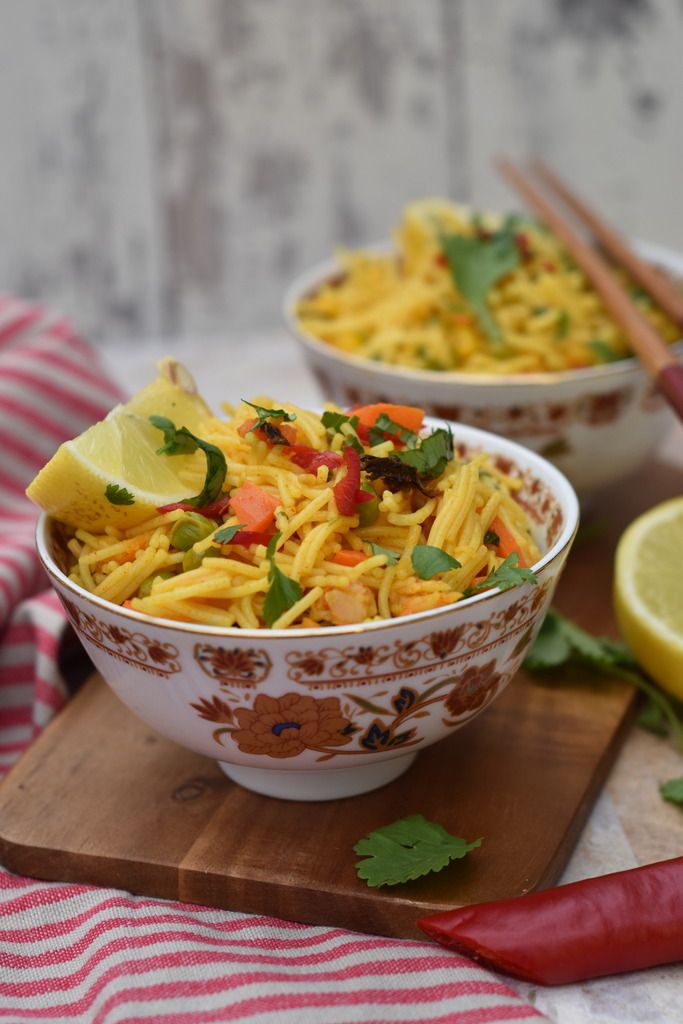 Vegetarian Vermicelli -Fideo Pasta bowl.
Delicious Vegetarian Pasta tossed with peppers, carrots, sweetcorn.





Ingredients:
125 grams dry Vermicelli Fideo Pasta
1.5 litres water
1 teaspoon salt for pasta water
1 tablespoon olive oil
30 g frozen peas
1 medium carrot peeled and diced
30 g frozen sweet corn kernels
30 g mixed red /green peppers diced
1 small red onion finely diced
1 clove garlic thinly sliced
1/3 teaspoon Salt
1/3 teaspoon red chilli powder
Pinch of turmeric
Fresh coriander sprigs finely chopped for garnish
1 Red chilli finely chopped
Lemon wedges for serving
Method:
1. Put water in a large pan and bring it to the boil, add the vermicelli pasta and salt and cook until the pasta is a l dente. Drain and keep aside.
2. In a pan add the olive oil when its hot add the onions and garlic and saute until onions are translucent.
3. To the onions, add the diced carrots, peas, sweetcorn, finely chopped red chilli and peppers. Cook the vegetables on a low heat for about 5 minutes until they are cooked.
4. Add the salt, chilli powder, turmeric to the vegetables and saute for 1-2 minutes.
5. Stir in the cooked vermicelli pasta and toss everything together.
6. Transfer the pasta to serving bowls and garnish with fresh coriander and lemon wedges.
Details:
Prep time:
Cooking time:
Total time:
Yield:

Serves 2