This is my assignment with the
Secret Recipe Club
.The aim of the club is that you are allocated a blog from which you have to select a recipe and try it and blog about it.
This month I was assigned the kitchen witch blog that is written by Rhonda who is a professional food photographer. Whilst I was searching her blog for a vegetarian recipe, I got thoroughly carried away as I spent such a long time drooling over her amazing food photos. I fell in love with all her background boards too. At the moment I have been trying to loose a few pounds so creating a salad for my lunch box everyday has been somewhat challenging. When I saw Rhondas citrus and cucumber salad I immediately fell in love with it. I loved the colour of the orange and the pretty cucumber rings and the overall presentation and the background board what can I say I want one like that too!!!
The salad is simple but the flavours are amazing, light and tangy. It is delicious and I have since made it 4 times, its one for keeps for sure.You can see Rhondas Uniq citrus and cucumber salad here. The only addition I made was that I scattered a few pomegranate seeds on the salad to give it a little more colour and texture.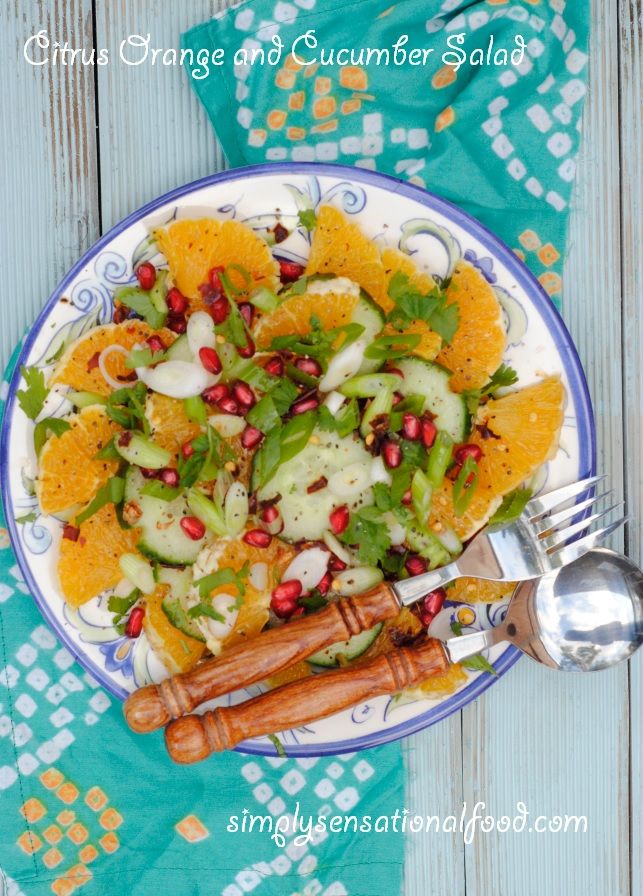 Citruss Orange and Cucumber Salad


Tangy orange with refreshing cucumber and jewelled pomegranate salad in a delicious lemon dressing with chilli flakes and coriander.

Ingredients:
2

Jaffa Oranges

1/2

Cucumber

2

Spring onions

1 tablespoon

Fresh coriander finely chopped

1 teaspoon

Lime zest

2 tablespoons

Lime juice

1 tablespoon

Olive oil

1/2 teaspoon

Chilli flakes

1/4 teaspoon

Coarsely ground black pepper

1/4 teaspoon

Salt

2 tablespoons Pomegranate seeds
Method:


1. In a jar with a lid add the lime juice, lime zest, olive oil, salt, chilli flakes and black pepper. Screw the lid on and shake the jar to combine everything.
2. Peel the orange and remove all the skin and pith and slice into rings and then cut the rings into halves. Place the orange slices onto a serving dish.
3. Slice the cucumber thinly into rings and arrange over the orange slices.
4. Slice the spring onions both the green and white parts thinly and scatter over the salad.
5. Scatter the chopped coriander and pomegranate seeds over the salad.
6.Drizzle the lime dressing over the salad.

Details
Prep time:
Cook time: None
Total time: