Mogo or more commonly known as Cassava or Yuca is nutty flavoured starch Tubor.

Cassava or yucca is a very common vegetable eaten in South America, India and also African countries. In East Africa cassava is a staple just like potatoes are in the west.
Cassava root is long and tapered, the vegetable has a thick outer brown skin and a white flesh. The tough outer skin/ rind has to be peeled before cooking. It can be eaten boiled, fried, mashed or dried made into flour too. It is also known as Tapioca. Cassava roots are high in starch and contain lots of calcium. It is high in vitamin C, folic acid and potassium.
We love Cassava and I cook with it on a regular basis. On this blog you will find my Chilli Mogo (Cassava ) recipe and also Mogo (Cassava) Bhel .One particular recipe we love is Chilli Garlic Mogo. The recipe is simple but the main process is to marinate the cassava prior to cooking. I have found a fool proof way to marinate using my Instant marinater made by Tomorrows Kitchen. The Instant marinater is a container with a vacuum storage . It extracts the air out of the container enabling the marinade to seep into the pores of the food giving the food more flavour.
Marinating the cassava in this way added real flavour to the cassava and made the recipe extra tasty.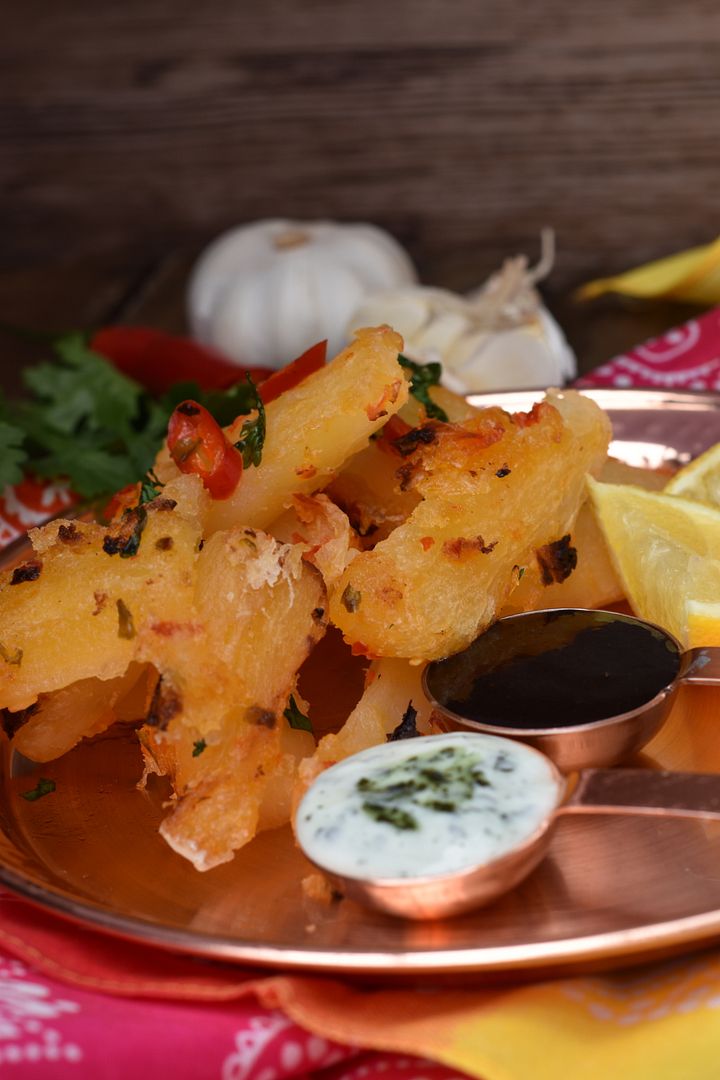 Chilli Garlic Mogo (cassava)
Mogo baked in garlic infused flavours with aromatic spices .

Ingredients:
480g

Frozen Cassava Chips

10

Garlic cloves

2

Red chillies

4 stalks

Fresh Coriander

1

Lemon

3 teaspoons

Salt

2 tablespoons

Olive oil
1.In a large pan add the cassava and 2 teaspoons of salt. Add 2 litres of water and boil the cassava until its fully cooked but not mushy.
2. Drain the boiled cassava and cut it into 2 inch long pieces. Discard any tubors
3. Peel the garlic and chop it coarsely.
4. Slice the chillies into round thin slices.
5. Extract the juice from the lemon and keep it aside.
6. Finely chop the coriander.
7. In a jar add the garlic, chillies, coriander. lemon juice, 1 teaspoon salt and the olive oil and stir together.
8. Add the boiled cassava in to the marinater and pour over the marinade and mix it into the cassava. Vacuum seal the container and leave the cassava to marinade for 30 mins.
9. Preheat the oven to 200 degrees C.
10. After 30 minutes, release the vacuum and transfer the marinated cassava to an oiled baking dish.
11.Bake the chilli garlic cassava in the preheated oven for 45 minutes or until it turns crispy and starts to brown slightly.
Half way through cooking time, give the cassava a turn to ensure even cooking.12. Remove the chilli garlic mogo from the oven and transfer to a serving dish. Serve with mint chutney and tamarind chutney and lemon wedges.
Details
Prep time:
Cook time:
Total time:
Yield:

Serves 4
I was sent the Instant Marinater to review by tomorrows Kitchen. The Chilli Garlic Mogo is served in the beautiful copperwareplate and spoons by Sass and Belle and Kitchen Craft