Pearl millet known as Bajra is commonly used in India to make flat breads. The millet has many health benefits as it contains folate, magnesium, copper, zinc, and vitamins E and B-complex. It also has a high energy content and is rich in calcium and unsaturated fats which are good for the body and it helps in reducing cholesterol, heart diseases and diabetes. The flour has a greyish colour, it has a rich nutty flavour and can be used in cooking and baking.
Bajra na Rotla- Millet flour flat breads are a commonly served in all Rajasthani homes but also in the state of Gujarat where they are served with a spicy aubergine curry.They are a staple part of the dietand are commonly they are served with dollops of Ghee, clarified butter and accompany most curries.
I have recreated the simple Bajra na Rotla below after sampling them on my recent trip to India. I served my Bajra na Rotla with
Gatte ki Sabji
which I shared in my previous post. Bajjra na Rotla are also eaten cold or packed for travelling as they keep for two to three days. They are eaten with a garlic chutney and pickle too.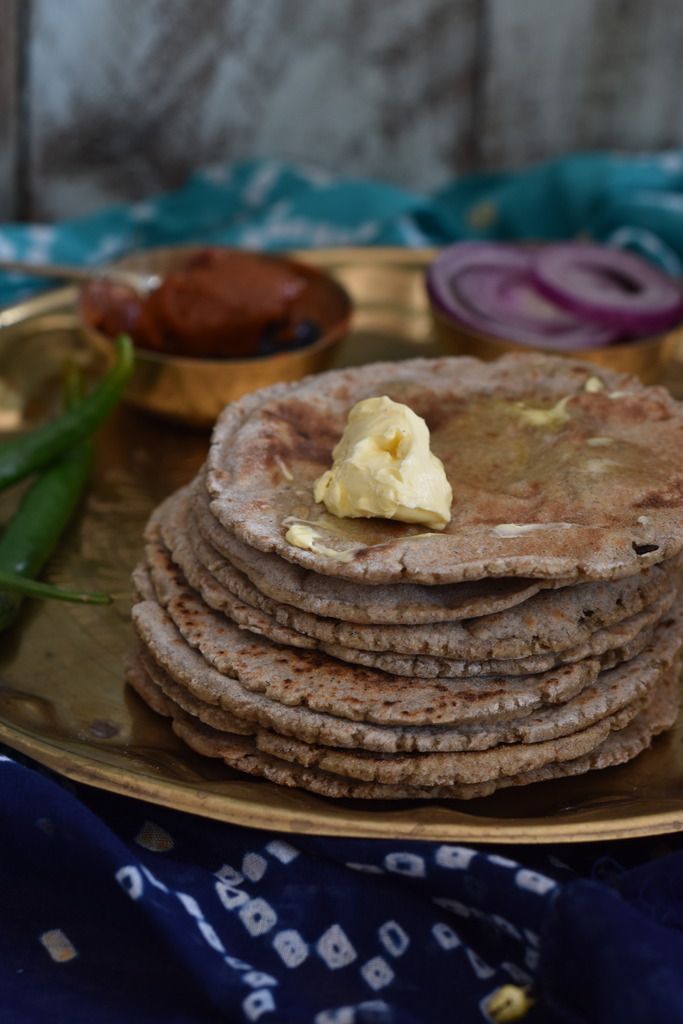 Bajra na Rotla (Millet flour Flatbreads)
Millet flour Flat breads with a nutty aromatic flavour served with a dollop of Ghee





Ingredients:
150g Millet Flour
30g whole wheat flour
50 ml water
1 tablespoon butter/ghee room temperature
1/3 teaspoon salt
1 tablespoon ghee or butter for serving (optional)
Method:
1. Put the flour in a bowl and add the salt, rub in 1 tablespoon of ghee or butter into the flour until you get a bread crumb type of texture.
2. Slowly add a little water at a time to make a semi soft dough. Just add as much or as little water as required, this will depend on the brand of flour you use.
3. Cover and leave the dough to rest for 20 minutes.
4.Place a tava or frying pan to heat.
5. Divide the dough into lime size balls and using a little bit of millet flour for dusting pat out the dough into a 3 inch disc approximately 5 mm thick.
6. Using a spatula gently pick up the rolled flatbread and transfer it to the tava which should be on medium heat. Do this carefully as millet flour is gluten free and will break easily.
7. After cooking for 1-2 minutes you will see the edges drying a little, gently flip the flatbread over and cook for another 2-3 minutes. Press the flatbread gently with the spatula
.8. Again flip the flatbread over to cook the top side, again cook for 1-2 minutes , gently pressing with the spatula .The Flatbread is ready when you have brown spots on both sides and this will ensure its cooked through in the inside.
9.Remove the flatbread from the tava and keep covered in a muslin cloth. Repeat for remaining dough. Once you are ready to serve smear a little ghee onto each flatbread and serve with curry and add an extra dollop of butter ghee on top of the flatbread if you desire. This is the traditional way to serve but its optional due to health reasons.
Details:
Prep time:
Cooking time:
Total time:
Yield:

8 flatbreads