I have inherited my passion for food from my father, he was a real lover of good food and relished the idea of cooking, eating and feeding others too. My family originate from India but my father immigrated to East Africa when he was a young lad to seek his fortune. In East Africa he worked hard and set his business in a very small town, where he had a grocery and hardware shop with a petrol pump. Travellers used to stop to fill up and my father was always hospitable and invited many of them to share lunch/ dinner with our family. His heart was so generous that we were used to having total strangers at our dinner table sharing our meals. My mother was an excellent cook and between both my parents, they had a great understanding of food and we enjoyed many elaborate feasts.
On festive days it was common practice that my parents hosted large parties in our back yard for all the neighbours and friends. My mother with the other ladies from the neighbourhood would cook big pans of dhals, curries, chapatis and sweet dishes and there would be mountains of food to enjoy and devour by all.
One of my fathers favourite dishes was Baingan ka Bartha or traditionally in Gujarati cuisine it is known as Orro. This dish is created by rubbing large aubergine with oil, pricking them and then roasting them on an open file till the skin is charred. The charcoal flavour imparted by the coals gave this dish a very aromatic and wonderful taste. The aubergines once cooked are cooled and the charred skin is removed. The flesh is mashed up and cooked with tomatoes, ginger, garlic and onions and it is one of the best Indian curries I have had to date, I am not surprised its was my fathers favourite too.
Photo Credit http://www.gettyimages.co.uk/
Jagruti of
jagrutiscookingodyssey
, a lovely friend and fellow food blogger has request some bloggers to create their fathers favourite recipe in time for Fathers day which is on Sunday 18th June this year. As a tribute and in remembrance to my father I have created his favourite dish Baingan ka Bartha which translates to aubergine mash!!! Unfortunately the weather did not permit cooking the aubergines on an open fire so I did the next best thing by roasting them in the oven. For best results try and cook the aubergines on charcoal. You can also add spinach to the aubergines to give it different twist as in Mina's
Spinach and Aubergine Mash
recipe or you can make these delicious
Stuffed aubergines with bulger and buckwheat.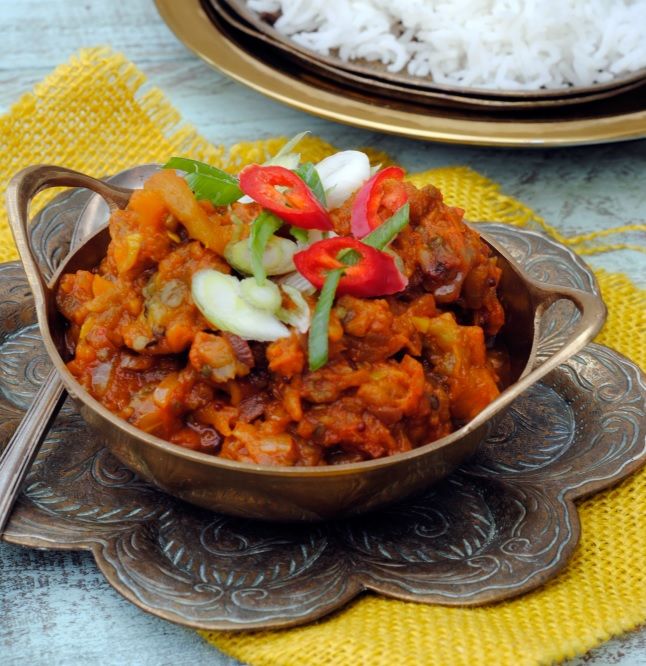 Baingan ka Bartha (Roasted Aubergine Curry)
Char-grilled aubergines cooked with ginger, garlic, onions and tomatoes.

Ingredients:
2

Large Aubergines

1

White Medium Onion (finely chopped)

4

Spring Onions (finely chopped whites and green)

1 teaspoon

Garlic paste

1 teaspoon

Ginger paste

2

Green Chillies (cut into slits)

4

Fresh Tomatoes (diced)

4 sprigs

Fresh Coriander (finely chopped)

1 teaspoon

Salt

1 teaspoon

Chilli powder

3/4 teaspoon

Turmeric powder

1/2 teaspoon

Coriander powder

1/2 teaspoon

Cumin powder

1/2 teaspoon

Mustard seeds

2 tablespoons

Olive oil

2 teaspoons

Tomato paste

For garnish 1 red chilli finely chopped and 1 spring onion finely chopped.
1. Wash and prick the aubergines with a fork. Rub the aubergines with a little oil.
2. Place the aubergines on a tray and place the tray in a hot oven for 30 mins (200 degrees C) or until the aubergines are soft and charred, you may require to turn them half way to get an even cook. (Alternatively the aubergines can be cooked on a barbecue)
3. Remove aubergines from oven and peel the skin off and discard, finely chop up the flesh. Keep aside.
4. In a pan heat the oil, next add the mustard seeds.
5. Add the onions and garlic and cook till onions are translucent.
6. Add the chopped tomatoes, green chillies, ginger, salt, chilli powder, turmeric, cumin powder and coriander powder. Mix well.
7.Cook the mixture until the tomatoes have softened and oil starts to separate, add tomato puree and mix well.
8.Add the roasted aubergine and spring onions and mix well into the sauce.
9. Add 2 table spoons water and cook for 5 minutes until the spices have infused into the aubergines.
10.Transfer to serving dish and garnish with fresh coriander, red chopped chillies and spring onions
Details
Prep time:
Cook time:
Total time:
Yield:

Serves 4
For other Fathers day recipes created by fellow bloggers do check the links below:
Misti Doi
Puran Puri
Masala Baigan
Masala Upma
Sugar-free Mango, Basil and Cashew Yogurt Popsicles
Sweet Vermicelli with Jaggery
Lotus stem Kofta