This is my assignment with the
Secret Recipe Club
.The aim of the club is that you are allocated a blog from which you have to select a recipe and try it and blog about it. For the month of February my assigned blog was Mangia which means "Eat" in Italian. Mangia is written by Chelsey who comes from a large Italian family and lives in Texas. The main theme of the blog is healthy gluten free recipes. I really enjoyed reading the blog and discovering new healthy ingredients for cooking. I chose the Coconut Banana Bread bites for my challenge.We really enjoyed them.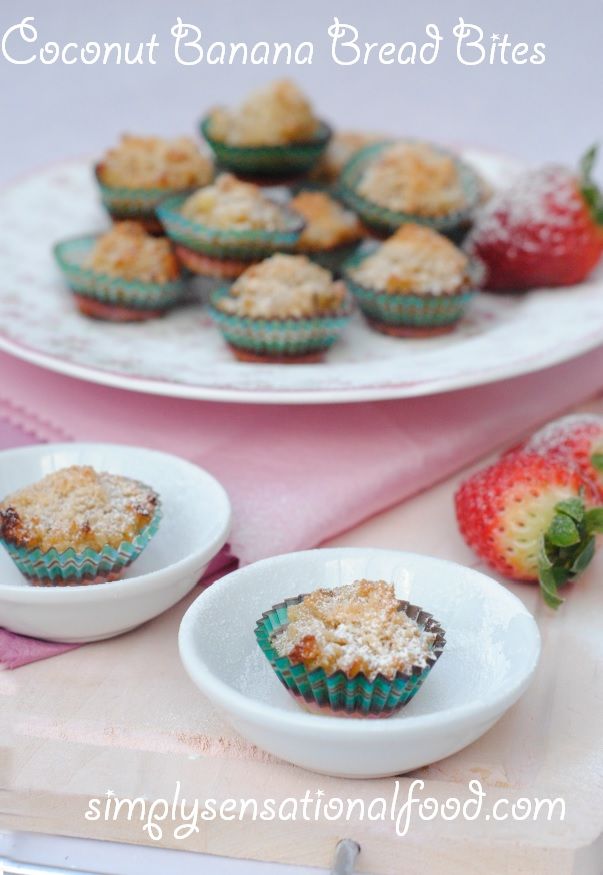 Coconut Banana Bread Bites



Healthy and delicious banana bites encased is sweet tendar coconut..
2 small ripe bananas
1 tablespoon melted coconut oil
1 teaspoon vanilla essence
2 tablespoon maple syrup
1 tablespoon coconut flour
1 tablespoon almond butter
1/4 teaspoon salt
1 teaspoon ground cinnamon
3 tablespoons dessicated coconut
2 tablespoons flax seed mealt


1.Preheat oven to 180 degrees C / 350 Ddegrees F.
2.line a mini muffin tin with mini cake liners.
3.In a large bowl add the bananas and mash them with a fork. Add the coconut flour, dessicated coconut, maple syrup,vanilla essence ,salt, almond butter, coconut oil, cinnamon and flax seed meal and mix together to form a dough.
4.Fill the mini cake liners with a teaspoon of mixture in each and bake in the preheated oven for 12- 15 minutes until golden brown.
5. Remove from oven and serve with a glass of cold milk.
Prep time: 5 mins
time: 20
Total time: 25 mins
Yield: 24 mini bites