This is my assignment with the
Secret Recipe Club
.The aim of the club is that you are allocated a blog from which you have to select a recipe and try it and blog about it. For the month of November my assigned blog is Living the Gourmet . The blog is a joint contributed blog by Catherine, Tammy and Michael, between them they post some wonderful recipes, reviews and photography on the blog.
Looking through I found some lovely recipes but one I immediately wanted to make was the sweet and spicy vegetarian chilli recipe. I love one pot meals and this is perfect for the winter to prepare and enjoy. I made very slight changes by using the veg that I had in my vegetable box .The recipe was a super success with my family .We enjoyed it with rice and also with pasta.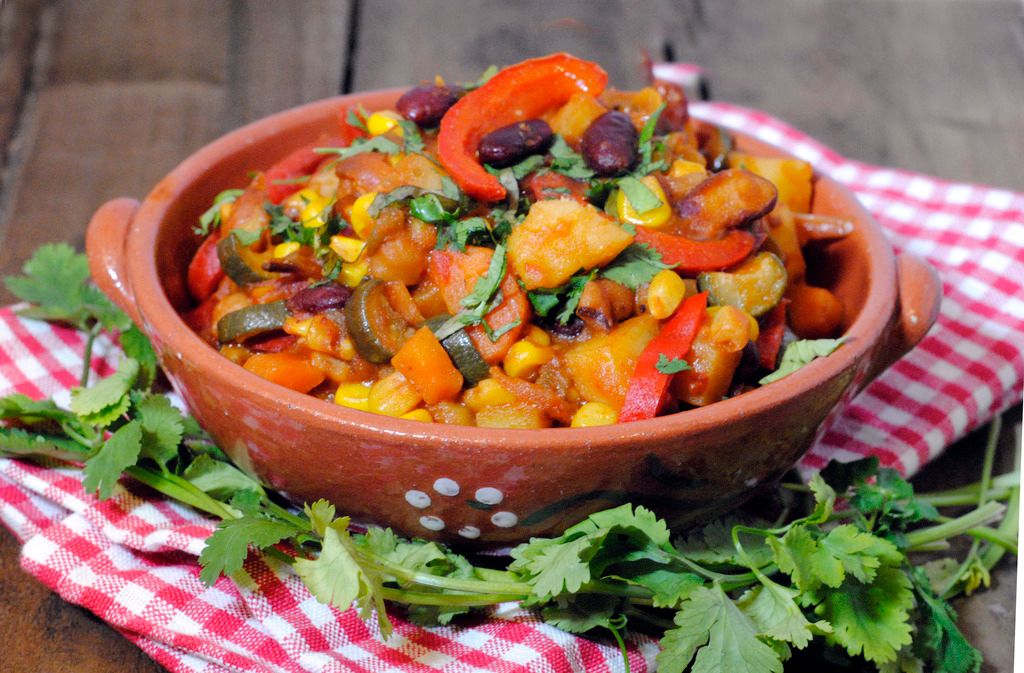 Sweet and Spicy Vegetarian Chilli
A medley of seasonal vegetables cooked together in this rustic bowl of Spicy chilli.
Ingredients:
400g

Precooked kidney beans

3

thinly sliced Capsicums red/yellow/green

100g

Precooked sweet corn

1

Large Courgette diced

200g chopped

Tinned tomatoes in juice

1

Medium Sweet potato peeled and diced

1

Finely sliced Red onion

1 teaspoon

Salt

1/2 teaspoon

Turmeric

1/2 teaspoon

Cumin powder

1/2 teaspoon

Black Pepper

1/2 teaspoon

Chilli Powder

1 tablespoon

Olive Oil

1 tablespoon

Balsamic Vinergar

1 tablespoon

Honey

2 cloves

Finely chopped Garlic

1

Finely chopped Green chilli

2

sprig fresh Coriander
Method:
1. Add oil in a pan when its hot, add the garlic and onion and saute for a couple of minutes.
2. Add the sweet potato and peppers and courgettes and saute for 5 minutes.
3. Add the sweetcorn, kidney beans, chopped tomatoes and the juice.
4. Add the salt, pepper, cumin, turmeric, green chillies and cook the vegetables until the sweet potato is cooked through. approx 10 minutes.(Add a little water if mixture is dry )
5. Add the honey and balsamic vinegar and stir together.
6. Transfer the chili to a serving pan and garnish with fresh coriander. You can serve the chilli with rice or pasta.
Details
Prep time:
Cook time:
Total time:
Yield:

Serves 4