In this delicious rice dish I have used the OXO vegetarian stock pot, which turned the plain boiled rice into a flavoursome and delectable dish that can be made in a jiffy. The stock posts are concentrated so don't be tempted to add extra spices and salt. The Oxo stock pots are packed with intense flavour and are perfect to add to your soups, stirfries, curries, rice dishes or pasta. They are versatile in use and available 3 different flavour combinations; Garden vegetable with parsley and bay, rich beef with onion and rosemary, succulent chicken with garlic and thyme.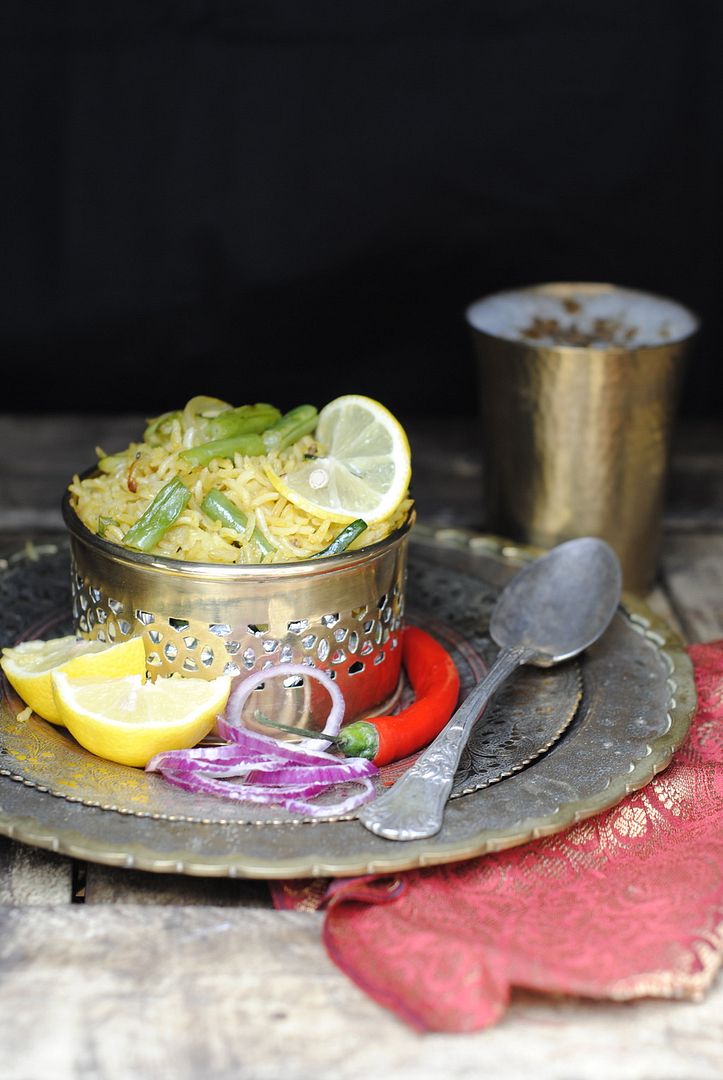 Fragrant lemony rice with green beans and courgettes.
480g

Cold boiled basmati rice

120g

Green beans

1

Medium Courgette

1

Small white onion finely sliced

1

OXO stock pot (garden vegetable with parsley and bay)

1

Green chilli finely chopped

1/4 teaspoon

Turmeric

1/2 tablespoon

Olive oil

2 tablespoons

Lemon Juice
1.Top and tail the green beans and cut them into 1 cm pieces.
2.Top and tail the courgettes and cut it into 2cm julienne pieces.
3.Add the oil into the wok and once it's hot add the onion, courgettes and green beans and stir fry them for about 3-4 minutes or until the vegetables start to take slight colour.
4. Add the contents of 1 OXO stock pot to the vegetables and the lemon juice and turmeric and toss all the ingredients together until all the vegetables are coated.
5. Add the rice and green chilli and stir fry the rice for 3-4 minutes until its full warmed through and is totally mixed with the vegetables and flavouring.
6. Transfer the rice to serving bowls and enjoy with a curry or cucumber raita.
Prep time:
Cook time:
Total time:
Yield:

Serves 4
I love trying new products and as always I would like my readers to have a chance to try the products too. Oxo have been really generous and have put together a goody bag of some lovely things that I have to give way to one simplyfood reader.
The goodybag consists of:
1
x Ladle, 1x Mackie's Soup Mug, 1x Sistema Microwavable Travel Mug, 1x OXO Cookbook and a selection of x5 OXO Stock Pots
.
How To Enter:
· Simply complete the Rafflecopter widget below to verify your entries
· Entries can be via blog comment, Facebook, Twitter etc
· Please read the rules they form the terms and conditions of this Giveaway
· Closing date – 30th April 2016 12.00 am
How Rafflecopter works:
You will need to complete the mandatory entry first – usually making a blog comment. You can do this by clicking on leave a comment at the bottom of the post and leaving your reply in the comment box. Please note your comment will not show immediately as it needs to be moderated however rest assured it will appear on the site, so carry on with rest of entries.

Login to Rafflecopter – click to see what the question is. Make a comment answering the question on the blog.

Go back to Rafflecopter and click the green button to tell me you have made a comment, this will unlock all the other options. All entries are checked to see that the mandatory question is answered, if its not all bonus entries will become void.

Rafflecopter will tweet, like and follow on your behalf.

For information on how to find the URL of your tweet click

here

.

For bonus entries you can return to this page and enter the daily bonus entries.

If you are still unsure as to how Rafflecopter works please do check out this

short video

.
a Rafflecopter giveaway