In my previous post I wrote about attending the John Lewis barbecue evening where with a bunch of food bloggers we created some wonderful and tasty barbecue dishes. My three

foodie friends, Jagruti from

jagrutiscookingodyssey

, Manjiri from

travelsfortaste

and

Lisa Moore

and I are featured below with one of our signature dishes.
One of the dishes my group created was Barbecued Corn with Roasted Pepper and Mint Salsa. It turned out really delicious and I could not wait to recreate it again at home. The smokey flavours that barbecuing gives to food is lovely and this sweetcorn paired really well with the mint and roasted pepper salsa.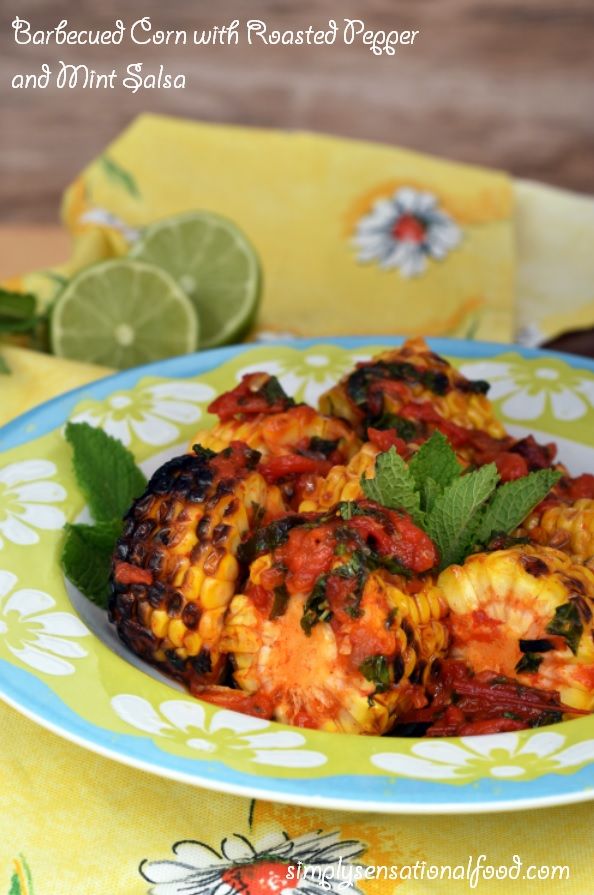 Barbecued Corn with Roasted Pepper and Mint Salsa
Barbecued sweet corn with a lovely roasted pepper and mint salsa, the mint, the spices and the lime sets this dish off beautifully.




Ingredients:
4 Fresh corn on the cob
2 Long red peppers
Few sprigs mint
3 tablespoons olive oil
3 tablespoons honey
Juice of 1 lime
1 lime cut into wedges for serving.
1 teaspoon sumac powder
1 teaspoon paprika powder
1 teaspoon salt
1 teaspoon chilli powder(optional)
Method:
1. Place the sweet corn on the barbecue and roast it until its cooked, keep turning it to get an even roasting.
2. Add the peppers on the barbecue and roast them too, keep turning them to get them roasted evenly.
3.Remove the roasted corn from the barbecue and cut it into bite sized rounds pieces approx 2 cm thick .
4.Remove the peppers from the barbecue and peel off the charred skin, remove the stalk and seeds. Roughly chop the peppers up and put them into a large bowl.
5. Reserve 6 mint leaves and finely chop the remaining mint and add it to the bowl with the peppers.
7.Add the sumac, paprika, chilli powder, salt, juice from the lime, honey and olive oil to the peppers and mint and mix well.
8. Add the sweet corn to the salsa and toss it well so that its coated thoroughly with the salsa.
9. Transfer the corn to a serving dish and garnish with a few more mint leaves and lime wedges
Details:
Prep time:
Cooking time:
Total time:
Serves:

6-8 people