Mogo or better known as cassava or yucca is a very common vegetable eaten in South America, India and also African countries. In East Africa cassava is a staple just like potatoes are in the west.
Cassava
root is long and tapered, the vegetable has a thick outer brown skin and a white flesh. The tough outer skin/ rind has to be peeled before cooking. It can be eaten boiled, fried, mashed or dried made into flour too. It is also known as Tapioca. Cassava roots are high in starch and contain lots of calcium.It is high in vitamin c , folic acid and potassium.
Bhel is an indian name given to a street food type cold salad / snacks made with any vegetables such as potatoes, chickpeas, corn and is garnished with onions tomatoes, crunchy puffed rice and served with a dressing called chutney.
We eat cassava a lot in our household, the easiest and tastiest way to cook it is to boil it and eat it as a warm side salad or snack.I am sharing here my simple yet yummy Cassava Bhel recipe cooked in my new ThermoCook. You can boil the cassava on the stovetop in a normal way too.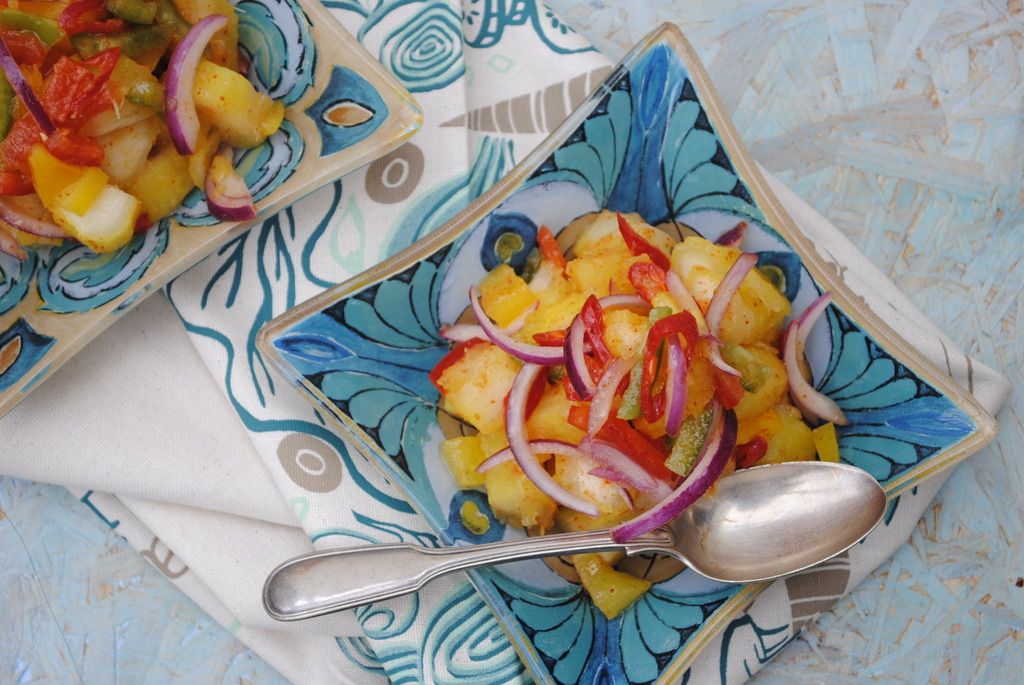 Mogo Bhel (Boiled cassava salad)
African style mogo, spicy, tangy and garnished with red onion, green and red peppers and coriander leaves.
Ingredients:
480 g

Frozen Cassava

1/2 each

Red pepper /Green pepper/ Yellow pepper

1

Small Red onion

2 tablespoons

Lemon juice

1 tablespoon

Mild Olive oil

1.5 teaspoons

Salt

1/2 teaspoon

Turmeric powder

1/2 teaspoon

Red chilli powder

1

Red chilli

2 sprigs of

fresh coriander
Method:
1. Place the frozen cassava chips in the thermocook and add 150 ml water.Add 1 teaspoon salt and the turmeric powder and cook on boil function for 25 minutes or until cassava is fully cooked and soft.
2. Cut the red onion in half and slice it into thin slices.
3. Dice the peppers into small pieces.
4. Slice the red chilli into thin round slices.
5. Chop the coriander finely.
6. Once the cassava is cooked remove from the thermocook and discard any water.
7. Pat the cassava dry with kitchen paper and cut it into 1cm diced pieces.
8. In a large bowl put the chopped cassava, sliced onions, diced peppers, lemon juice, remaining 1/2 teaspoon salt, chilli powder, red chillies, olive oil and chopped coriander and toss together.
9. Transfer to serving plates and serve warm or cold.
Details
Prep time:
Cook time:
Total time:
Yield:

2 servings
I cooked my cassava in the ThermoCook which I have been trialling. I love the versatility of the
ThermoCook.
ThermoCook
is a multi-function cooking appliance that has loads of functions. It consists of a large 2 litre stainless steel power blender that blends as well as cooks and steams. It has over 20 functions that include stirring, steaming, kneading, cooking, blending chopping, whipping, mixing, emulsifying and milling.
The Optimum ThermoCook includes auto-programs that are pre-set to make Smoothie, Quick Soup, Thick Soup, Chop, Sauté, Stir, Steam, Stew, Warm, Reheat, Boil, Yoghurt, Rice, Porridge, Kneading. You can also use the ThermoCook to create your own recipe and save the programme to come back to it again and again.
If you like the sound of the ThermoCook this is what it comes with:
• 30 Day Money Back Guarantee – Includes Return Postage
• 2.0 Litre detachable stainless steel jar for blending and cooking
• Butterfly and kneading blade
• Stainless steel blade assembly
• Large 70x50mm LCD screen
• Separate Precise Glass Scale
• Soft silicon rubber spatula
• Simple pre-set auto programs and unique DIY program
• Adjustable timer and temperature gauge
• Dishwasher proof (non-electrical parts only)
• Comprehensive recipe book
Currently the T
hermoCook
is on special offer at £549.00, it may sound steep for a gadget but trust me it really does do everything it states and much more. You can actually prepare your whole meal using this one gadget.Think of all the washing up you will save.